Interface Options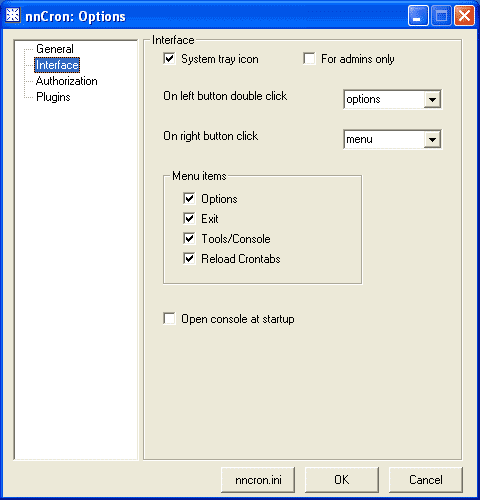 System tray icon
By selecting this checkbox you will cause nnCron's icon to be displayed in system tray.
For admins only
Select this checkbox if you want nnCron's icon in system tray to be visible only to users with administrator rights. Users with lower-level rights will not see the icon.
On left button double click
On right button click
Use these listboxes to define the action, that should be performed when double-clicking or right-clicking on nnCron system tray icon. There are several predefined words. Note, that you can use any other forth-words as well. This topic is explained in more details in "Variables Used in nncron.ini" chapter.
Menu items:
Options
Exit
Tools/Console
Reload crontabs
Checkboxes from this group determine whether or not the corresponding items are present in the Right-click pop-up menu which is displayed when you right-click nnCron's icon in system tray. You can unselect some checkboxes if you don't want these items to be present in the menu or to be visible to other users.
Open console at startup
This is a very convenient options. When it is selected, the Forth console is automatically started on nnCron startup. Therefore, frequent users of Forth console don't have to lose their time starting console manually each time they want to use it.
---